SEPTEMBER 11, 2019 INDUSTRIAL PRINT MAGAZINE
UV LED curing is used throughout the print process to dry or cure anything from ink to coatings. It works very quickly compared to other curing processes like conventional UV and mercury arc lamps in addition to many other advantages. Consequently, the speed of curing allows for heat-sensitive and thinner materials to be used – unlike longer curing processes where a thinner material may melt – expanding application options. For manufacturers in different industry verticals, a customized UV LED curing solution is essential to increasing efficiencies in their organization.
Implementing digital printing into a manufacturing workflow can also mean integrating UV LED curing technology. Adoption is prevalent in a number of industry verticals primarily because of UV LED's rapid curing abilities, energy efficiency, and variety of applicable applications.
Read this Industrial Print Magazine article to hear about the latest innovations in LED UV curing technology from a number of industry experts, including Excelitas' OmniCure Senior Product Manager Pamela Lee.
The article also features our Duracote case study, which details how Excelitas implemented Duracote's recent changeover to customized UV LED curing for its manufacturing processes.
When the company's traditional UV lamps approached their end of life, Duracote needed a curing system with minimal heat generation to prevent unwanted curing or substrate deformation. Low electrical consumption and lower life were also important for lower overall cost of ownership. The system had to provide uniform irradiance, even over time as the UV LEDs age, across multiple UV heads spanning a 66" wide product.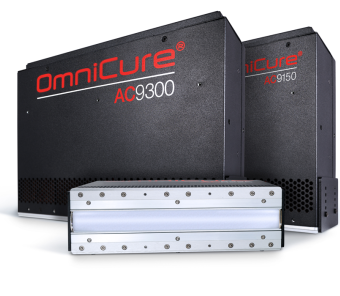 Excelitas' OmniCure AC9 Series LED Large-Area UV Curing System revealed several advantages of UV LED curing to the Duracote team. The patented individual UV LED module control and factory calibration of the OmniCure AC9 heads enabled fine control of UV irradiance over the full 65" to 66" wide product, even when all four heads were adjoined. This level of control enabled the heads to deliver UV irradiance with a high degree of longitudinal uniformity to better than +/-10%. Precise control of the UV irradiance using intelligent system monitoring ensured that the correct dose of UV energy was delivered on every exposure. This level of control was very difficult to achieve with microwave UV lamps. The controllability of the system also enabled Duracote to easily use the OmniCure system in a number of manufacturing processes, each of which use different materials and require a different curing profile.
Jack Pallay, Duracote's president, sums up the integration of the AC9 Series UV LED Curing System for its application: "It exceeded expectations", he said. "The performance of the system validated the vendor's claims. The UV LED curing concept, in general, is 'as advertised'. There is no doubt that, in our opinion, it is the way to go."